When designing the international Iconic awarding wining Cathay Pacific Lounges, in one of the world's leading international Airports Hong Kong International Airport. In which for the world's leading airliner Carrier is Cathay Pacific Airways… In which there recently innovative renovations in Cathay Pacific lounges is one lounge that you'll wanting to arrive very early every time when you travel..
Designed, crafted by Ilse Crawford, principal of Studioilse... In expressing the a new concept lounges of Cathay Pacific's valves of addressing the modern innovative ever changing traveler at its flagship at the Pier Business lounge that occupies 3306 square meters with seating for five hundred passengers catering towards now the largest Cathay Pacific network..  the lounges are to make the places, comfortable, friction free, also a joy to spend time in a space like a family home.. one of the iconic places is the signature Noodle Bar in which offering homemade style dishes of the food delights senses of Hong Kong iconic international food culture from the streets, home, also the Hong Kong restaurants, among that is the fast food bar in with the tea house with fantastic showers spas suites….featuring distressing area the Sanctuary with pure yoga area.. Among the relaxation area there are many restfully home areas.. in which are duplicated with four areas of Hong Kong International airport, The Wing, The Pier, The Deck, The Bridge..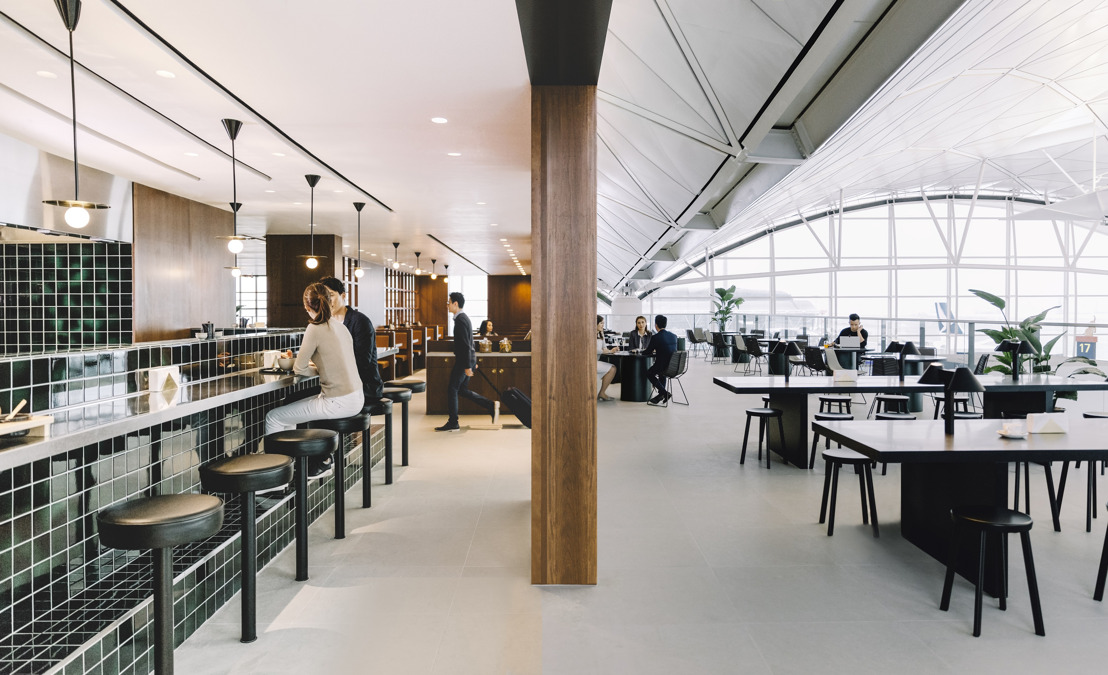 With a home feel of furnishings of elegant natural materials that applied to natural furnishings..  Among with the feel of home is the feel of working with staying connected with easily accessible high velocity speed WiFi in which you can stay productive before your flight or just keeping with your socials among with device charging outlets in which helping you keeping you productive and relaxed..
 "Design is not about the way things look; it's more about how you can make a space feel good…. If your intentions is to be warm and kind and take care of people  then that needs to be the starting point for everything you do ……. So we always look at how a space will affect how people feel.. Something that makes them have a better experience… by being in that space….. Ilse travels a lot and travel can be extremely brutal. As we all know Airports can be pretty stressful experiences, they're brightly lit, chaotic….. In the Cathay Pacific Space, the most important moment we felt was going to the lounge the boundary between the noisy, stressful airport and this kind of sanctuary, if you like…. But that was extremely conscious, so the light is low, the level of sound is quite soft,  the materials are warm and tactile..    So we really wanted to orchestrate that transition from one world towards the next…… I want that somebody feels that someone cares…. But I also want that it feels heartfelt…. One of the lovely things that's I've heard is that people sometimes leave work early just to be in lounge for an extra hour, which is pretty unheard of.. …. It's really a Joy, I must say to goes through the lounges now and seeing people chatting, relaxed, happy it's not common in airports and it's just so rewarding to see it working…..  "